What comes to your mind when you close your eyes and imagine yourself in your wedding dress, the dress that will signify the beginning of the rest of your life with the one you love? Cinderella? Asian inspired? How about Boho or 20th Century chic? For some, picking your wedding dress will be a well calculated endeavor while others may not even know where to start.
Every bride should strive to achieve their best self when
looking for that special dress.
With so many different body types, wedding dress shopping can be nerve wracking. The first step is to know your body type. Knowing your body type will help you determine what silhouettes will compliment and flatter your figure and which ones you may want to steer away from.
Ballgown
The ballgown is commonly known as the "Cinderella" gown and is definitely the classic fairytale dress. This silhouette is the one young girls dream about and see in their favorite Disney princess movie. Fitted at or above the waist, this gown flares out at the waistline into its characteristic floor length full skirt. Ballgowns can require a slip or petticoat underneath in order to enhance the effect of the full skirt and overall silhouette.
Advantages: Pear shaped brides can benefit from the full skirt which hides a larger lower half of the body and does not restrict movement. Fitted body creates an hourglass illusion for brides with larger busts or apple shapes.
Disadvantages: Shorter brides or those with smaller bust sizes may look unbalanced and overwhelmed in a ballgown.
A-Line
A-line gowns get their name from skirts that resemble the capital letter 'A'. Fitting along the natural waist, A-line skirts gradually widen out into a less dramatic skirt when compared to the fullness of the ballgown and do not require a slip or petticoat underneath. They come in versatile styles that can suit casual, formal and every occasion in between. For brides that want to look like a princess minus the puffy skirt, the A-line silhouette is a great alternative.
Advantages: Rounder body types may benefit from the slimming effect or the illusion of an hourglass figure A-Line gowns provide. Because they can compliment a slim frame and also give the appearance of added height, petite or shorter brides should consider an A-line gown if they are seeking these additions to their wedding look.
Disadvantages: None, it's great on all body types!
Fit & Flare
Fit & Flare gowns are known for being the sexiest silhouette available giving the body the ultimate hourglass shape. Fitted through the body, they gradually flare out starting at the hips. During your dress search, you may come across dresses that are described as being either trumpet or mermaid. Don't worry, these gowns fall into this silhouette category due to their fitted bodice. The only difference is where the skirt flare begins. Trumpets start at the mid-thigh while mermaids begin at or below the knees. Also, the kick of fabric can range from subtle and calm or dramatic with a lot of volume.
Advantages: All body types can benefit from this silhouette which can add womanly curves to even straighter figures (i.e. column, rectangle). Petite brides will not be overwhelmed by the skirt and can appear taller.
Disadvantages: If you are concerned about bringing attention to your waist or hips, beware of this silhouette which will emphasize those areas.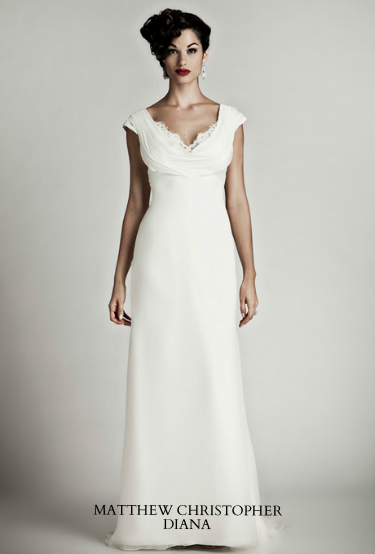 Sheath
Sheath gowns, aka column dresses, have a narrow design that follows the natural shape of the body creating a more natural form-fitting silhouette. These gowns can be minimalist chic without embellishments allowing the wearer spice it up with accessories or adorned with applique work or intricate lace designs. If you are a non-conventional bride or want a beautiful gown without too much fabric, sheath gowns are the choice for you.
Advantages: Athletic, column and hourglass body types benefit from the figure enhancing effects of sheath dresses. They accentuate their natural figure creating a more curvalicious shape. Petite brides also appear taller due to the lengthening effects sheath gowns provide.
Disadvantages: Sheath gowns emphasize extra inches and can be unflattering on pear and apple body types.
Which silhouette is for you?
Well...silhouettes are only just the beginning! But don't worry! Knowing your body type and having a general sense of the type of silhouettes out there will help you get even closer to saying yes to that dress. With the ability to mix and match different silhouettes, waistlines, necklines and applique work, your dream dress is only an imagination away. However, at the end of the day, pick what your heart and body desires and throw away societal norms to the wayside!